Wimbledon 2020 is officially cancelled due to COVID-19 pandemic (Part 1)
| category Tennis
|
No Comments
Wimbledon 2020, the world's oldest and most prestigious tennis Grand Slam tournament was canceled because of Covid-19.
The decision of the BTC is considered to be the best choice at the moment, and also an act of showing responsibility for society's efforts to fight the epidemic of the century.
Cancellation still no loss
After much speculation, Wimbledon organizer finally decided that the tournament in 2020 was officially canceled due to the strong outbreak of the Covid-19 epidemic in Europe. The 134th Wimbledon will be held from June 28 to July 11, 2021.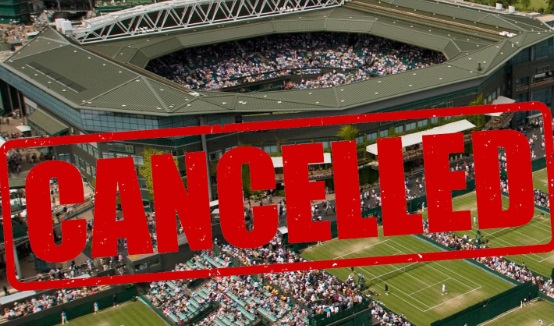 Wimbledon is the first Grand Slam to be canceled in 2020 because of the Corona virus. In particular, this is the first time the Wimbledon has been canceled since World War II. In addition to canceling Wimbledon 2020, the British Tennis Association also announced the cancellation of all warm-up tournaments for Wimbledon.
Before coming to the historic decision, the organizer had many plans for Wimbledon such as organizing matches without spectators or postponing a month later. However, all the above solutions are not feasible and bring safety to the community. Before Wimbledon, major tournaments like the 2020 Tokyo Olympics or the Euro had to be moved to 2021 as the Covid-19 epidemic was spreading.
According to Richard CEO, Wimbledon organizer will not suffer a loss because of cancellation. Wimbledon had insurance, to protect himself against unusual incidents. The amount of insurance paid for the cancellation can be up to $ 50 million, more than the 2018 profit figure.
Sighs
Shortly after the 2020 Wimbledon was canceled, many of the world's top stars expressed regret. Roger Federer did not hide his sadness when his forte field was canceled because of Covid-19.
"Disappointed" is the only word Federer posted on Twitter shortly after Wimbledon organizers announced the cancellation of the award. "Express train" is the best player in Wimbledon history, with a record of 8 times champion after 12 times to the final.
At the age of 39, the Swiss tennis player sees Wimbledon as the greatest opportunity to increase the number of Grand Slams. Federer owns a record of 20 major titles but is closely followed by Rafael Nadal (19) and Novak Djokovic (17). As such, he will have to wait a little longer to be able to conquer the 21st Grand Slam title in his career.
However, the tennis world not only has Nadal, Federer, Djokovic. Behind the glamor, fame is also hundreds of other players that their main revenue source is counting on the tournaments.